5 Ways to Support Your Child's Mental Health Now
6-minute read 
In KinderCare's recent Parent Confidence Report, 67% of parents worry about the long-term impact the pandemic will have on their children's mental health. Manager of Inclusion Services, Taunya Banta, says it all comes down to consistency and connection. Check out her top five ways to help support your child's mental health so they can thrive now and throughout their life:
Try to stay consistent with your routine and talk with your kids when changes need to be made.
Practice social and emotional skills at home and also virtually to deal with social distancing.
Prioritize self-care for yourself and know you don't have to hold it together all the time.
Focus on resilience as a family by practicing gratitude, deep breathing, and spending time together.
If you need help to manage your child's stress, reach out to their pediatrician, school counselor, or medical professional.
Does every week feel like the hardest week ever? We get it. We're feeling it, too—and so are many other families. The pandemic has given all of us an increased and sustained stress unlike anything we have faced before.
Between the disruption to routines, social distancing, and much more, our daily lives are stuck in a state of flux. And we know parents are stretched to their max, too. But you are not alone. In KinderCare's recent Parent Confidence Report, families said that pandemic parenting is relentless and isolating. And on top of that, 67% worry about the long-term impact this will have on their children's mental health.
This makes it a great time to teach kids how to manage stress in healthy ways. According to Manager of Inclusion Services, Taunya Banta, it all comes down to consistency and connection. Check out Taunya's top five tips to help support your child's mental health, then watch this video to hear her talk about they can thrive now and throughout their life.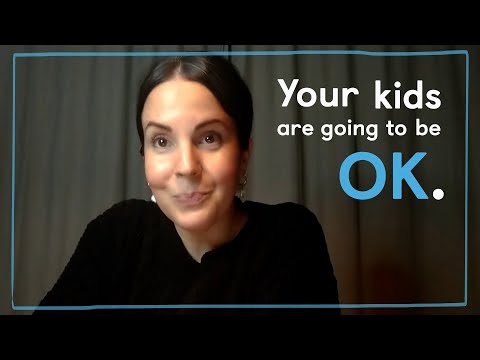 1. Make A Consistent Routine 
Routines give children (and adults) a sense of security and structure, so big changes like remote learning or a series of smaller changes, like constantly moving workspaces, can cause stress and anxiety. Try to stay consistent as much as possible, and if you need to make adjustments, talk it through with your kids. This way, they can ask questions and you can provide extra reassurance, if they need it—when children know what to expect, they feel in control of the situation. If you have a school-age child, have a weekly meeting as a family to plan out your week together. And if any feelings come up when talking about changes, help them name them (e.g., frustrated, sad, lonely) and share your own feelings—this will help them see they're not alone.
To learn more about creating a routine in this uncertain time, watch this conversation between Taunya and Center Directors, Tracy Wolk and Shaneka Madden.
2. Adapt to Social Distancing 
Play up younger children's (infants-5 years old) social and emotional skills when they show up in your day to give them opportunities to practice. If you're taking a walk through the neighborhood, greet people, and if they are playing, see if they will share a toy with you. For kids ages 6-12, set up a schedule of virtual events, such as lunch dates with friends, story time with grandparents, or Friday night pizza with cousins. Sporadic check-ins are great, but it's also great to have them scheduled so your child has something to look forward to. 
3. Be Kind to Yourself 
You can't pour from an empty cup, so prioritize self-care. It can feel selfish, but it really will help you be your best self for your loved ones who need you—just
check out this video featuring Dr. Elanna Yalow, KinderCare's Chief Academic Officer, about practicing self-care without the guilt
. Plus, it sets a great example for your children. So, try making a joy list, post it where you can see it, and do two to three things on that list each day—for example, take a hot shower, listen to music, or have a piece of chocolate!  
And in those moments when you don't feel like you have it all together, don't put on a good face—kids will see right through it anyway! Help them by naming and validating your emotions and modeling a coping strategy. For example, "I am sad because I miss seeing my friends and it's okay to feel sad because I can't see them. So I am going to text them and set up a virtual visit." But if you do lose it, apologize for what happened, acknowledge the appropriate way to express your emotions, and let them know you'll do better next time.  
4. Focus on Family Resiliency 
Build some fun into your routine—Saturday bike rides and Sunday morning pancakes are great ways to connect with each other. Look for three good things during a meal or before bed, everyone can share their
three good things
about their day to practice gratitude. Suggest that everyone take a deep breath to help ground themselves. To help younger kids breathe deep, hold up two fingers and ask them to smell the flower (one finger) and blow out the candle (the other one.)
Click here to find more about this exercise and other fun breathing techniques
.  
5. Ask for Help When You Need It 
If your children are returning to behaviors they have outgrown, such as worrying excessively, avoiding activities they love, or having poor performance at school, they may need support to help them manage their stress. Talk to your pediatrician or the school counselor for tips on how to support your child's mental health. 
Supporting your children's mental health will help them increase their resilience and confidence.